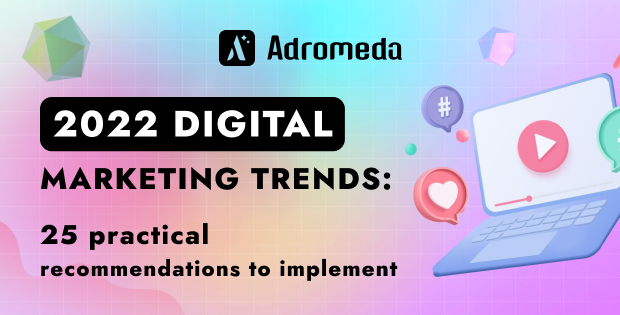 Remember the first 12 Adromeda recommendations on how to stay competitive in digital marketing in 2022? Well, part 2 is out now! Check out these 13 tips to stay on top of the trends of 2022. If you forgot something from part 1, then please be sure to brush up. Happy reading =)
13. Apply Live Commerce Tools to Increase Engagement
The latest trend that has become popular in Asia is now growing in Europe and the US. Brands are using live streaming to increase sales and user engagement, as well as reduce return rates. The best tools can be easily integrated with clients' e-commerce platforms and allow people to make purchases without leaving their website.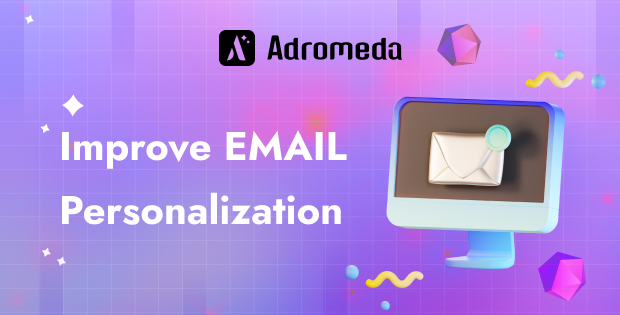 14. Improve Email Personalization
Emails are not dead. They just need to be updated and improved. This is a complicated task for marketers, but it can be easily solved with the help of new technologies. People want to get emails that will fit their expectations, solve problems, and help them buy products. What does this mean? For example, your client wants to buy a foundation. You know this from their searches on Google and your website. Send them a list of the best foundations to consider. Make the emails interesting, easy to read, and valuable to people.
15. Boost User-Generated Content
Clients used to trust other people's recommendations, even if they were not their friends. Encourage people to write or make videos about your products, and boost their activity with special tech tools.
16. Highlight Product Accessibility
Increasing brand accessibility is a new trend in 2022 that has been a long time coming. This year, many brands have featured products for people with disabilities on their homepages. Brands cannot ignore customers who are different from the general public. Make all available products visible.
17. It Has Become Hard to Rank Organic Content in Google, but You May Use AI
Indeed, it has become more difficult to rank SEO-optimized organic content on Google. But this also means that marketers need to use more sophisticated solutions for this task. And it also moves you to increase brand search by making consumers type the brand name with search keywords.
18. Use Machine Learning for More Engaging Communication
Customers want to speak to the brand in a more personal way. This is a great place to use machine learning and AI to boost such conversations. For example, you can use a software solution to analyze the type of customer request and prepare a response using the appropriate tone of voice.
19. Stay Mobile Friendly and Invest in Mobile First
Mobiles as the dominant device will only become more and more apparent in the next few years. Many marketers have already switched to the mobile-first concept, and this trend will grow. In most cases, your clients will first learn about your brand through mobile apps.
20. Use Simple Language
Another mistake marketers make is providing overly complicated content. The smart tendency is to keep all content as simple as possible. Make your communication campaigns more human and invest in quality content creators.
21. The Future of Marketing Is Multichannel
Another thing to consider is the multichannel nature of your digital campaigns. In many cases you will need to create a unique campaign for each channel, but it is worth it. Content segmentation is a marketing strategy that will work well in the coming years.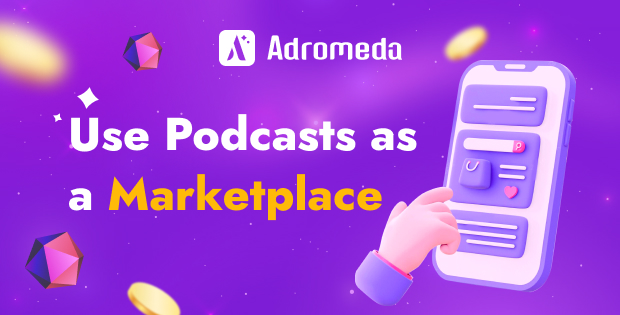 22. Use Podcasts as a Marketplace
The number of podcasts in the market will continue to grow, which will give marketers a great opportunity to increase their target audience. Promote products with podcasters as it becomes easy to identify your audience. Create special offers for people who come to you from podcasts. Invest in great shows, because this is one of the most promising digital marketing trends 2022.
23. Use Geofencing as a New Tool
Using location to promote a brand isn't a new practice. But what's new is the use of real-time location data for recommendations. For example, you can recommend restaurants or shops based on location data at a particular time, and change the requests when your client moves to another place.
24. Show Your Brand Responsibility
In 2022 we are concerned about ecology, sustainability and responsibility. Implement these principles into your brand marketing strategy.
25. Apply Vernacular SEO
Make your content available worldwide in different languages. This marketing IT solution provides global content optimization for each regional language.
Final Thoughts
Top Digital marketing trends in 2022 are driven largely by new technologies and customer behavior in a changing world. We have pointed out the most promising trends that will be effective even for next year's campaigns. You can also learn from top brand marketing campaigns how Asian video streamers make millions in revenue in a few hours, or how Nike or Alo launched Roblox reality VR shops. This is already part of digital business, and over time, such trends will only grow.
Adromeda is already implementing most of the latest digital trends into advanced campaigns for our clients. If you need to discuss your case or improve your digital branding strategy, you can visit our website and contact our specialists.