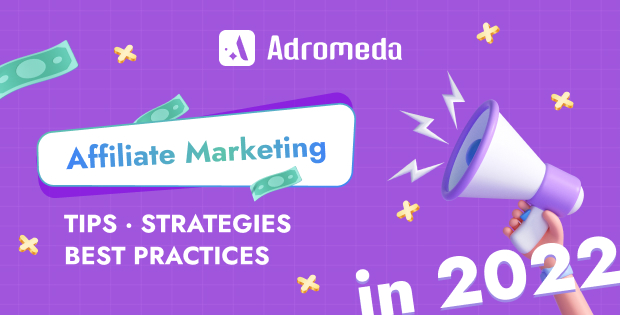 "To purchase the same product, you can use this link" – you've probably heard this phrase from influencers or even friends a thousand times. For reference, the Everyday Carry Amazon website has become one of the most influential digital marketing campaigns with a built-in affiliate strategy. Airbnb, Skillshare, Wix, and other top companies are among successful businesses that are growing together with affiliate marketing. In 2022 this number will increase, as well as the revenue from such campaigns. Moreover, affiliate marketing is still one of the most efficient ways to earn money for small bloggers and websites. We spoke to the Adromeda experts and discussed the latest trends in the industry, the best B2B strategies for 2022, and the most inspiring examples of affiliate campaigns.
What Is Affiliate Marketing?
Before we jump into a discussion of the best strategies for affiliate campaigns, let's briefly overview the importance of this digital marketing technique.
Affiliate marketing is an advertisement that recruits content creators to post links to their platforms and rewards each purchase made from the link. This type of marketing is beneficial for companies, influencers or bloggers. Advertisers will pay only for conversions that lead to an efficient sale cycle. At the same time, bloggers can get rewards for quality content and cooperation with brands, even if they don't have a lot of subscribers.
In a nutshell, an affiliate link is a trackable link with a unique URL assigned to a specific person. It can be an average user; for instance, every reader of the Morning Brew newsletter can share their special link with friends and get rewards for each subscription. Or it can be a link for bloggers, like the Airbnb program that allows bloggers to share the registration link and get paid for every sign-up through this link.
There are two common types of affiliate revenue:
CPA (cost per action), when you have a reward from purchasing or booking a service.
CPC (cost per click), when you can be rewarded based on how many times other users click on your affiliate link.
Affiliate Marketing Strategies For 2022
By the end of 2022, the affiliate marketing sector will grow to $13 billion. The prediction is that by the end of 2024, this number will reach $16 billion. 81% of big companies worldwide use such programs as a marketing strategy. This means that interest in such programs will be growing in the future.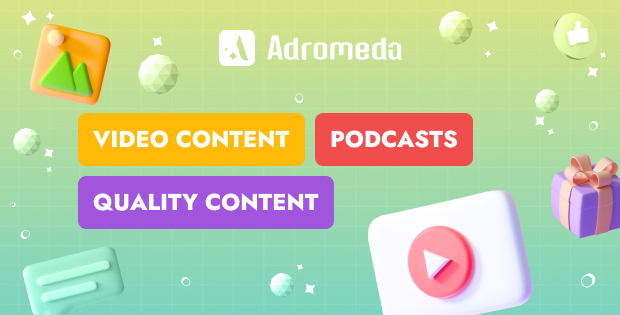 But let's be honest, the way we implement affiliate B2B marketing strategies is also changing. What digital marketing strategies for such programs will work in the future?
Selling through video content. The trend of video promotion of products came to the US and European markets from China. The first company that launched such a technique was Alibaba, who raised millions of dollars during the first video chat. The idea is to test a product online in real-time, allowing users to ask additional questions. Also, you can use advanced marketing tools to track these affiliate links and improve the selling process.
Using podcasts. In most cases, we think of affiliate links as clickable links. But they can also be promoted through audio. The growth of podcasts in the last year was tremendous. You can find a specific niche for your products to increase conversion. For example, every time Andrew Huberman, a PhD in neuroscience, starts his podcast, he distributes a unique promo code among listeners who want to buy the supplements he recommends.
Investing in nano-blogs with a quality content strategy. We used to cooperate with big affiliate program influencers, but the quality and value of each click is a different thing. Bloggers with 1K+ followers can have more significant credibility and a better connection with their subscribers. They grew because of authenticity, and the value of each click to your affiliate link will be more sufficient.
Affiliate Marketing Tips and Best Practices
Each year brings new B2B marketing challenges, but we define some tips and best practices to improve your affiliate campaigns. If you wonder how to make your strategy work and increase your business revenue, here is the most recent checklist of marketing best practices for any affiliate campaign.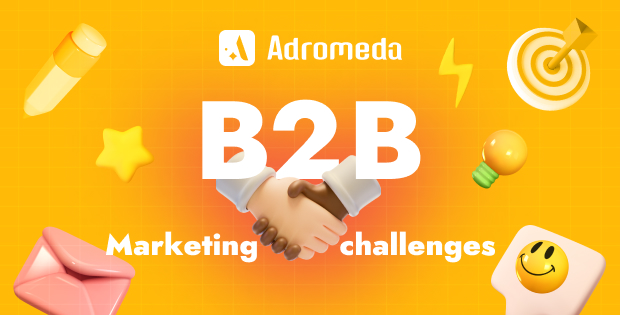 You need to create measurable goals. There is no way to check whether your campaign was successful, if you do not know how to measure success. For instance, it can be gauged by affiliate sales or convenient rates, special sales, or average order value.
Be clear with a target. This is a golden rule of marketing. You need to know who your audience is and what its needs and pains are.
Make your affiliate link easy to integrate. It should be easy to use your link, track rewards, and share it with others.
Use affiliate software to improve campaigns. There are a lot of automated solutions that can significantly enhance your affiliate campaign. Find one that will fit your goals and requirements.
Use a link localizer. International brands need to adapt their campaigns to the local market, and the same tactic should be applied to affiliate links. Local bloggers should not promote their links to global websites.
Marketing is not only about money. The purpose of affiliate links is to increase sales, and the aim of such a digital marketing campaign. But remember brand reputation. If you choose the wrong influencer, you could face a considerable reputation loss, even if you earn money from affiliates.
Loyalty marketing can be a part of affiliate campaigns. It can be even more complicated to make people return to your website. But you can give rewards not only for sale clicks, but also for charity donations. In this case, you will use affiliate links to build a better brand image.
Conclusion
There is no doubt that affiliate marketing can be an efficient part of the digital strategy for many brands. It can help brands grow revenue, increase loyalty and build better relationships with customers. The forecasts for 2023 indicate the continuous growth of such campaigns. The best practices for 2022 focus on using new technology to improve digital promotion, adapt to social media trends, and learn from your customers.
Adromeda has expertise in creating digital marketing campaigns for various industries. If you need to discuss how to increase the revenue of your business using affiliate links, you can contact our specialists.