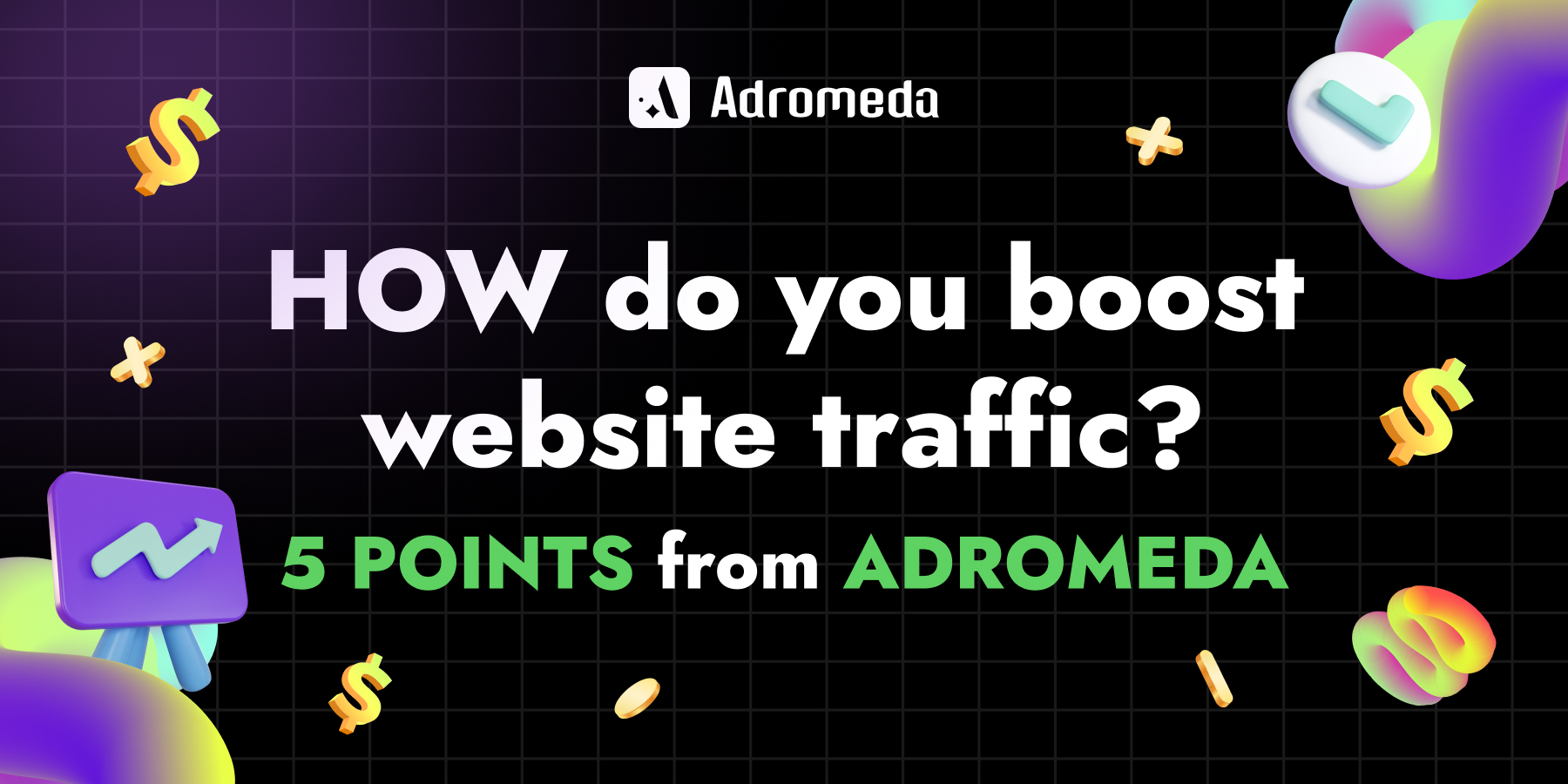 Launched a website but not getting enough traffic? Wondering how to attract users to your pages and engage with your content? In this article we will tell you how to increase website traffic using SEO, content marketing, social media, email newsletters, and offline promotion methods.
1.   SEO
SEO strategy aims to bring your website to the top of organic search results and increase search traffic. To rank high you must make your site informative and user-friendly, and optimize it according to search engine guidelines.
Build a strategy for how you'll catch up with the competition. SEO includes on-page and off-page strategies.
For on-page optimization, complete the following steps:
Check for layout issues and loading speed (normal up to 2.5 seconds)
Remove duplicate pages
Optimize the mobile version
Create content according to target keywords
Accurately fill in all page description elements
For off-page optimization, do the following:
Generate high-quality backlinks and brand mentions for easy use and for the user to remember the name of the site
Register in business directories. These online directories provide essential information on your business and give your audience everything they need to take the next step and visit your website.
2.   Digital Marketing
When developing marketing campaigns, use exciting and helpful content to promote a product or service. You generate the content; people read it, share it with their friends, and return, increasing site traffic.
Internal content
First of all, you need to fill your web pages with helpful content. Creating landing pages and growing your blog will take some time and resources. Publications must be released regularly and not deteriorate in quality.
If you have high-quality content that follows the current industry trends and matches user needs, you will have a steady stream of visitors. You can choose the topics to cover based on user research and the most commonly searched terms in your niche.
Here's a simple Google life hack: a block of requests may increase the list of keywords for an article. You'll be able to discover what else users want to read on the topic with its assistance, and you'll be able to improve the article's usefulness for the target audience. This block can be found near the bottom of the search results page.
Make sure to retain the attention of the audience. Your content should encourage users to spend as much time as possible reading it. What you can do to engage readers:
Create a section containing the most popular publications and give links to relevant or similar articles.
Give your best works a new life. Add updates to work and post again.
Review content analytics regularly and boost what gets the lowest traffic. The content may be updated, supplemented, and re-posted. You can view the report in Google Analytics in the "Behavior – Site Content – Analyzing Page Traffic" section.
Use checklists, infographics, and videos. This will also increase the number of views. 90% of users find this tactic effective.
Create different types of content. This may be educational, commercial, or entertaining content. Each of these categories has a distinct function and is used at various sales funnel stages.
Stages of the sales funnel
At the first stage, the user knows that your company exists. They see an advertisement on a social network or a link in the search engine results and go to the site.
The user is interested in the offer: they look at the catalog, examine delivery terms, payment methods, and other details.
The user adds a product to the cart and intends to buy it.
The user takes an action: places an order, subscribes to the newsletter, or calls the contact number.
Don't get too caught up in one thing. Try different approaches and analyze what works best. You may also encourage customers to share their reviews or photos and enhance your web pages with user-generated content.
Content published on external sources
External content can also help attract visitors to your website. It's beneficial, as you'll get links from other sources and won't have to promote external articles yourself.
External content can be created in the following ways:
On public blogging platforms such as Medium. Write additional pieces of content and share them on popular blogging services.
On blogs that cater to your target audience and provide it with fascinating topical content. Arrange guest-posting relationships with high-quality sources and share your expertise.
In the comment sections. Leave helpful comments below relevant articles or on forums that are focused on the topics related to your website.
3. Social media
Content distribution on social media is useful, since you can apply very specific targeting. Even users who are not your followers can learn about your business if you put up your ad correctly.
Here are a few suggestions for increasing social media traffic to your website:
Use the Open Graph markup. This HTML markup allows you to control how a post will look when shared on social media.
Give people a reason to visit the website. Write engaging posts that speak to the needs of your target users. Use questions to encourage users to comment.
Encourage people to comment and repost. Comments, likes and retweets are indicators of post engagement. Social networks use such indicators to rank content in the feed. The higher up a post is in the feed, the more people view it.
Add social media repost buttons to your site so that readers can easily share your images, quotes, or the entire page. These buttons can be placed on the side bar.
4. Email newsletters
Think about what valuable or entertaining content you can provide to subscribers to motivate them to visit the site. Here are a few general guidelines to help you enhance your email marketing campaigns:
Work on the subject line and preheader. Add emojis and try to write in a way that intrigues or benefits the reader. Shock or surprise the audience with facts, provocative comparisons, or an unusual analogy.
Segment your subscribers and create personalized emails.
Don't cram too much information or too many links into the email. You run the risk that the subscriber will not read the entire message.
Create responsive layouts. Double-check templates to see how they look on different devices before submitting.
Include different ways to contact you in your email. Allow the subscriber to select what channel they prefer to engage with you on.
5. Offline methods
You can connect with the target audience offline as well. Put links or brand mentions on banners, flyers, brochures, business cards, packaging, etc. Order outdoor advertising on digital billboards. Word-of-mouth marketing, advertising in taxis and restaurants, or presentations at thematic forums is also productive.
If your website domain is too long to enter by hand, convert the URL into a QR code.
Conclusion
Start with the site itself if you want to boost your number of visitors. Make it informative, entertaining and user-friendly, and tailor it to search engine requirements. Create strong content, use the power of social media, launch personalized email campaigns, and catch up with potential clients offline. Always analyze what works and what doesn't, and improve your efforts based on gained insights.