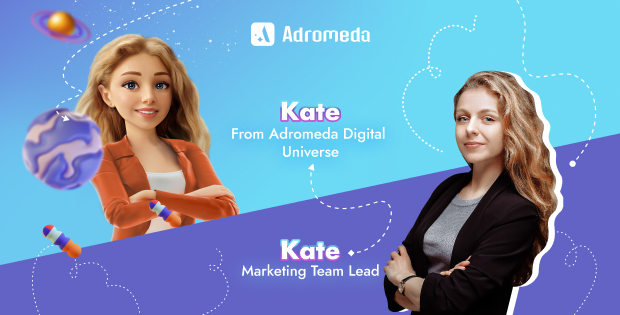 You already know that Adromeda caters to the needs of our partners, don't you? Well, nothing's changed. We've analyzed the questions we get from our partners and noticed that they are often identical. To save priceless time, yours and ours, and to answer the questions that may have arisen in your mind but you haven't yet asked, Adromeda has prepared this informative article. We've collected our most frequently asked questions and delegated answering them to Kate Kozub, our Marketing Team Lead. So let's see what we've got.
We frequently get questions related to the vision of our company and the benefits it gives. So read on to know how we work and what for.
When and why was Adromeda started?
Adromeda is a digital marketing agency that was started in September 10, 2020. Our mother company is Saltire Connected Limited. Our team of experts has vast experience in digital marketing and strives to help our partners develop and successfully monetize their projects.
How does Adromeda stand out among its competitors? And what benefits will we get from our partnership?
Our main goal is to build and improve the brand awareness of our partners, as well as increase their profit. Our decisions are based on strong R&D and top marketing technology innovations. We also unite verified advertisers looking for high-quality traffic and reliable publishers seeking new ways to monetize their traffic to its fullest potential. Our main vertical is Mainstream. Adromeda works with offers from direct advertisers and high-quality traffic from our publishers: SEO, PPC and Review sites.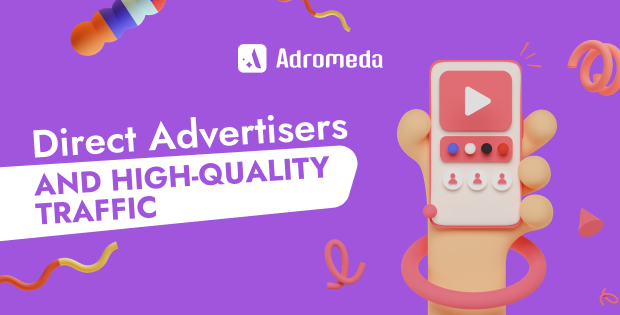 3. What if we have an insufficient footprint and doubts concerning marketing? Will you still work with us?
Our goals are to help businesses be more recognizable and increase their ROI. If one's business is not yet highly valued in the market, our task is to develop a marketing strategy that will return the necessary success and profit. The main thing is that it should be a real business because, according to our company's policy, we check every partner for the availability of the required documents. It is important for us that the business pays taxes.
What marketing aspect of your site would you tackle first in the context of a rather limited budget?
First, we would look at how catchy it is. The thing is that, yes, you can advertise, even via a cross-promo, but the question is whether the visitor wants to stay for more than two seconds. Still, we have a recommendation for businesses with a limited budget – come work with us! We do work with minimum budgets because we understand that if we help a partner grow, they are highly likely to stay with us, and the benefit becomes mutual.
Adromeda is also often asked for recommendations and to share some of our projects. You'll find this info below.
Can we perform SEO optimization by ourselves? Could you give us any recommendations as to how to do it?
There is nothing complicated about SEO. We have an experienced team that specializes in it. Moreover, we often publish insights, recommendations, and cases on our blog that can help deal with this or that direction. Besides, you can always contact us for help with any question concerning digital marketing.
What should we do to create great content? Any recommendations in this regard?
It is rather difficult to recommend something from scratch, since the first step that should be taken is to analyze the client's needs. Why do we need content? For engagement? For lead generation? For brand awareness? These are entirely different matters. At Adromeda we often experiment with content. We have recently developed a comic book, written a storyline, drawn creatives, and even made animations. We've used social networks, as well as cross-promos with partners, to distribute this content. And it's worked out well.
Can you share any of your top ideas related to digital marketing?
We have nothing but TOP ideas 🙂 I'm kidding, of course. No one canceled preliminary testing. One of our latest ideas is a comic book about digital marketing. By the way, we've recently posted an article on our blog about how digital marketing will change in the next 5 years 
Another idea we are actively working on – the metaverse. We will let you know when this project is ready to launch.
What common marketing mistakes do small businesses tend to make?
What seems to be an important mistake is doing everything for free. But, if you want to earn more, learn to spend money wisely.
What affiliate trends could you name?
Each year brings new B2B marketing challenges, but we follow certain strategies and best practices to improve your affiliate campaigns. If you wonder how to make your strategy work and increase your business revenue, here is the most recent checklist of the best marketing practices for any affiliate campaign:
Create measurable goals;
Be clear with your target;
Make your affiliate link easy to integrate.
We will post more detailed recommendations on our blog soon.
Could you share with us some of your cases?
There are lots of them, so it is difficult to choose one. We describe all our cases on the blog. Lots of insights and expertise are covered here.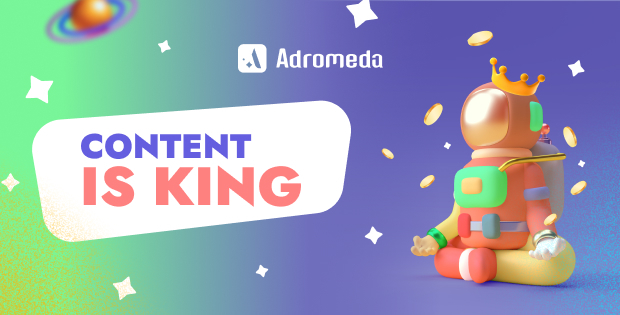 Tell us more about the contest announced on your site.
Everyone knows that content is king. The task of our contest was to engage the audience and get feedback. And we also wanted to analyze how well a story works rather than a one-time publication. The main question was: how long can we hold the audience's attention? Something like episodes in a TV series, cinematic universes – a strategy similar to that of Netflix, Hollywood and Marvel.
What else would you recommend to succeed in marketing?
Don't be afraid of experimenting with budgets.
Conclusions
There they are – the 12 FAQs from Adromeda's partners. We do hope that you've found this article helpful and that your question has been answered. If you still have any questions, feel free to get in touch with us and ask them directly!