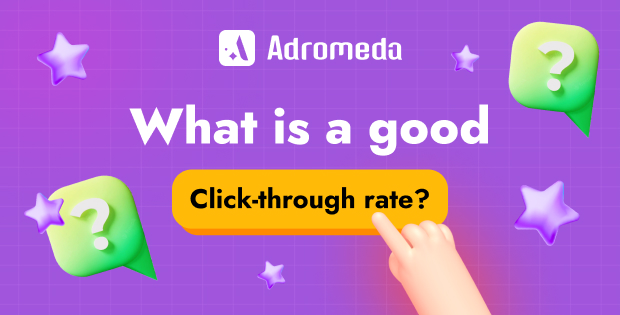 CTR is a metric in digital marketing. It is defined as the ratio of the number of clicks on a banner or ad to the number of impressions, measured as a percentage. Marketers are always considering how to effectively acquire leads and secure company success. Consequently, they must have a good click-through rate.
Here's how CTR is calculated: CTR = (number of clicks / number of impressions) x 100%. For example, if an ad were shown 100 times and clicked on only once, your CTR would be 1%.
Good CTR Examples
It is common knowledge that the greater your CTR, the cheaper the cost. It contains the proportion of total ad views that resulted in clicks and is a vital component of the Quality Score calculation that determines your ad's position and CPC. Organic CTR largely depends on the ranking position and the result title tag, description, URL, and advanced snippets. CTRs differ significantly by marketing channel and industry, including email and contextual advertising, social media, and more.
For banners, a good click-through rate might be around 1-2%, depending on the industry. Average banner CTR is about 0.2%, and decreases annually as "banner blindness" becomes more common. On the contrary, a good email click-through rate can fluctuate somewhere between 10-20%. Again, it mostly depends on the type of business and the email campaign you're leading. Highly personalized emails, especially in B2B, can have a CTR far above 20%.
CTRs on social media are also different. The good click-through rate for Facebook can vary between 2-5% on average. But for many advertisers, exceeding the figure of 0.1 is considered excellent. You should be guided by your competitor's numbers. The good click-through rate for LinkedIn is around 0.4-0.6%. Once again, it's a global average.
A good click-through rate for the entire website is 5% or higher. If you can get to this mark, you will see your page moving up the search rankings. If your click-through rate is closer to 1%, or even lower, you'll find it difficult to get to the first page of a Google search. If Google sees users clicking on your web pages, they can be sure that your site is valuable to the user.
How to Optimize Your CTR
1. Create Compelling Meta Descriptions
These are the text snippets displayed in the SERPs beneath your title tag. A good meta description tells people what your website is about and encourages them to read the rest of it. Use keywords to demonstrate to your readers that your content addresses an issue they're looking to resolve. Answering questions is another approach to improving your meta description.
Make it relevant and specific: a meta description can only be 160 characters long.
Improve your CTR by using clear and emotionally charged language to provoke a reaction to your article.
2. Make Image-Based Posts
Including images in your article is an excellent method to increase engagement. If you want your content to show up in the featured snippets and other SERP infoboxes, they are a must-have. Not only that, but this also increases the likelihood of users clicking on your URL while looking for search results in the photos area. To make this work, you'll need to follow the image SEO best practices, like correctly identifying your photos and using alt text.
3. Make Use of Descriptive URLs
One of the essential pieces of information displayed in SERPs is the URL of your page. This is why you must tweak it to boost your CTR. Using descriptive URLs might help you increase your click-through rate. Making the URL as detailed as possible is one approach you should try. Integrate your keyword in the URL and try to make it as short as possible.
4. Localize Your Content
In terms of Internet traffic sources, mobile has swiftly surpassed desktop. Most mobile phones have location switched on for map features, allowing Google to read their position and suggest local answers. Localized content is ideal for SMEs that only act in specific areas or enterprises that provide in-person services.
Localize your content to increase your organic CTR. The majority of mobile users look for local content. Including your location in your content, meta description and title tag is a good localization technique.
5. Use Listicles
Include listicles in your content plan to increase clicks. Make sure to use numbers in your headline and title tag to do this. This will make consumers aware that there is a listicle behind the click.
6. Improve the Speed of Your Website
Users may click on your link but immediately leave if your website isn't optimized for speed, thus lowering your CTR. To put it in context, a jump in site speed from 1 to 3 seconds boosts bounce rates by 32% on mobile devices.
Conclusion
Understanding your sector is critical to determining what makes a successful click-through rate. There's no insurance against getting low CTRs, but content is a crucial factor. As people need a purpose to click on something, your content goal is to catch the reader's eye and spark their interest just enough to get them to click. The type of content material you use will have a significant impact.
Define your opportunities and use marketing to maximize them. Adromeda can help you with specifying the strategy and finding reliable publishers to attract high quality traffic.