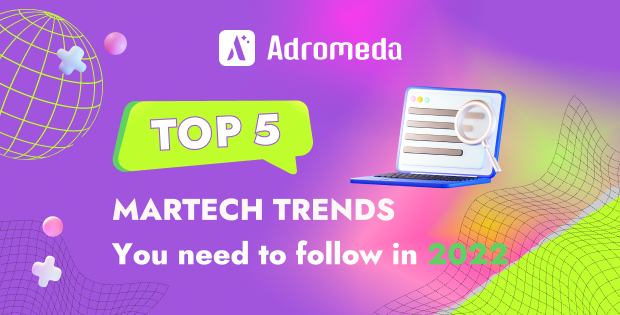 For years marketers have been the first to adapt and implement new technological trends to sell products, research targets, and improve communication with clients. This year is no exception. Digital marketing, already affected by the pandemic, continues to implement new tech solutions for in-depth market research and to boost customer engagement.
At the same time, the COVID-19 pandemic has changed consumer behavior a lot and made marketers search for new approaches to relationship building. For example, a McKinsey survey indicated that, even after the pandemic, people continued to buy most things online. This even applies for groceries, and there is a massive difference in performance for stores that rely on promotional strategy and those who leveraged prices first. The world is changing, and so are marketing trends.
The Adromeda team will discuss the most promising martech trends for 2022 in this article. Let's define how technologies help marketers and advertisers align with the latest trends.
Trend #1. AI and Machine learning
Based on Pigeon's research, almost 29% of marketers agreed that AI and machine learning technologies already take the lead in digital marketing. It helps online marketing teams to get more personalized data and, as a result, develop better customer relationships. Marketing best practices for using AI to boost customized engagement have already been established. Great examples are Facebook or Google – they used AI to form our news feed. Live chats or custom recommendations became advanced tools for digital marketing thanks to AI technology. Sometimes computers are better at knowing what advertisements we need,  right now.
AI and machine learning have been a part of the marketing business for a long time. Moreover, 2022 became a year of NLP growth. Another thing that can be interesting for marketers is data-driven storytelling to facilitate complicated topics and bring more value to marketing research. AI-driven writing tools have become an excellent solution for a lot of industries. A great example is e-commerce, where content writers need to manually produce many descriptions daily. But with AI this problem can be solved easily.
Trend #2. Metaverse
No doubt, the Metaverse will rule marketing in the coming years. Leading companies, such as Facebook, Microsoft, Nike, and others, have already launched unique products and solutions for augmented reality, marketing IT trends to build communication and target customers in virtual reality. It's not just a new word. It is a new concept advertisers need to understand and implement.
At the same time,the Metaverse builds an entirely new infrastructure for marketing. This means that it changes content strategy, search optimization, and customer experience. It has become natural to use tech devices to try new products before purchasing them. The future of virtual shopping malls is already here. VR is the new tool for B2B marketing and for a broad spectrum of communication campaigns.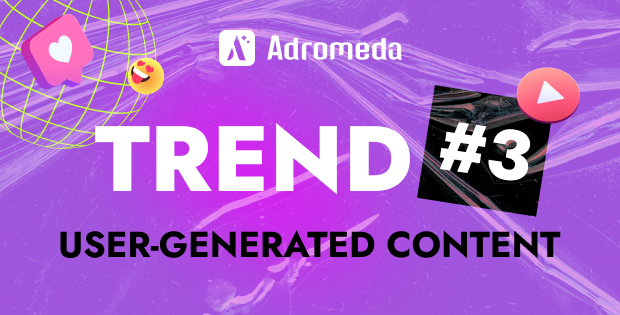 Trend #3. User-Generated Content
Almost 61% of online shoppers pointed out that user-generated content made them want to interact with a brand. This is an incredible figure that illustrates the importance of UGC investments. It could be blogs, videos, chats, or even comments that tell your brand story. When marketers encourage customers to create content about their products, it is a win-win situation. People will more likely believe other people (even online strangers) than brands. Customers want to read honest reviews or learn from different experiences before purchasing products. In 2022, digital marketing will use tech tools to organize, analyze and boost user-generated content.
Who can generate content for a brand? It could be your customers, employees, or brand loyalty communities. Based on statistics, UGC increases the conversion rate by bringing a new customer experience for shoppers.
Trend #4. Web 3.0 and Blockchain technology
Another vast trend among martech trends is adapting marketing strategies for Web 3.0. This is a new version of the web built on the blockchain, and will (ideally) be decentralized and democratic.
How does it affect marketing? First of all, Web 3.0. means more data privacy for users. As data guides many marketing campaigns, it will be more complicated to extract it and use it for strategy planning. At the same time, marketers are able to deliver more targeted ads for clients. For instance, the semantic web uses metadata to improve content strategies.
Web 3.0 also relies more on content creators and focuses on a community approach.

Trend #5. Voice search
Since 2018, voice search has been one of the top martech trends. People speak with Alexa and Siri every day, and it definitely affects the keyword search. A new reality makes marketers adapt and learn about their clients from voice assistants. Digital marketing specialists should rebuild content strategy and improve keyword search for both voice and text. For example, they need to include answers to questions people may ask Siri. Also, consider that it is integrated with other tools, such as Google maps or Image search.
Why does voice search change the way marketers need to promote their products? Imagine that people are looking for the weather forecast for New York. They will probably type "New York weather weekends" into Google. But if they use Alexa, they will ask: "What will the weather in New York be this weekend?". It is a different landscape for digital marketing specialists. That's why SEO strategy should be updated.
Final Thoughts
New technologies have always guided marketing. In 2022 nothing changed – we still use tech tools for increasing sales and building better relationships with customers. These tools allow us to create more personalized advertisements, better understand targets, and provide more sophisticated content. 2022 martech trends are pretty straightforward. When building a marketing strategy we need to consider Metaverse, AV, AI, machine learning, data analytics, voice search, blockchain, and NFT.
At the same time, new technologies open many marketing opportunities. Adromeda has expertise in using the latest trends to create effective marketing strategies for various industries. If you need to discuss your case or get advice on using tech trends to boost sales and increase engagement, you can contact our specialists.