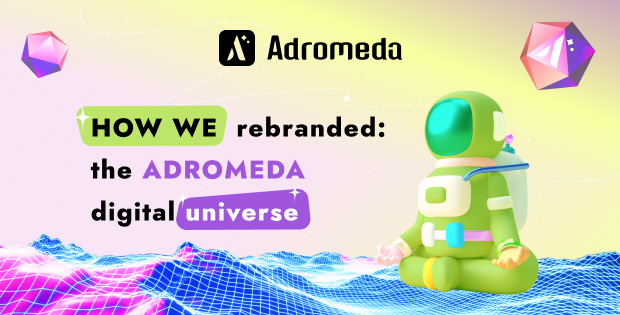 Adromeda is not just a unique galaxy, it's a whole universe, it's a new life for your projects! We bring together the best digital marketing professionals from around the world, provide the highest quality services, help develop your potential and achieve success quickly! Adromeda is where everyone who wants to go to the next level in the world of technology should be.
The Impact of Brand:
Adromeda is one of the most beautiful and interesting galaxies. So our logo is the name of the digital universe, where the letter "A" symbolizes the galaxy. The logo also includes a star and a sun. We've colored it blue and yellow because we support Ukraine, since our team is partly from there.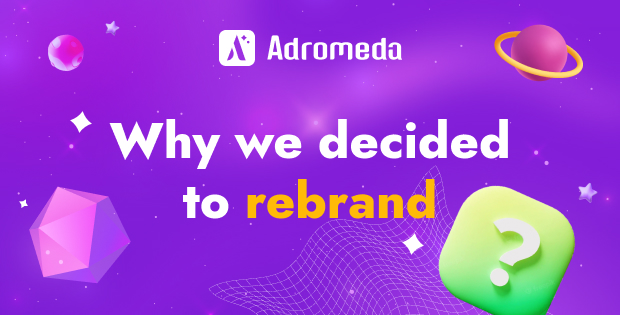 Why We Decided to Rebrand:
"We have seen that to have a greater impact on the overall business strategy, we need to go well beyond brand and communications strategy. We needed to better communicate our enhanced offerings and the value we provide to our partners. The strength of a brand is in its information content. We wanted to show the scope of our activities in digital marketing. We are Adromeda – the galaxy."
Kate Kozub, Marketing Team Lead.
We consider rebranding to be more than simply replacing our logo with something fresher, rebranding for us is breathing new life into projects. We believe that all our resources invested in rebranding will bring us a double benefit. We've used the brand pyramid to structure brand data, better understand marketing concepts, and track the relationship between these components. This has allowed us to choose the right development strategy.
Rebranding is a challenge, but we are not afraid of difficulties. We believe that this is our step forward.
As a constantly evolving company, we follow trends, new consumer needs, market mainstreams and technological innovations. We understand that consumer behavior is constantly changing, and we try to keep up with the times. Rebranding makes it possible to attract more attention and focus on what is really important and relevant for us.
During our time on the market, our company has matured. We've grown up, become wiser, and started occupying new market niches. With so many areas covered, we just can't stay the same anymore. As we change, our brand must also change. With the help of rebranding, we want to present our projects on the market in a new light. Now our activities are more global, larger and more mature.

The Main Brand Idea
We love beautiful and fashionable things, so our company must be freshly introduced to the market. Among other things, we want to do more than just create a brand that will attract attention. We want to reveal the core values ​​of our company and emphasize what is most important to us.
We provide our partners with unique marketing strategies and help them reach their fullest potential through cooperation with us. We unite digital marketing specialists from all over the world to achieve our main purpose – to bring a new era of traffic drive to this world.
Now we are focusing our attention on the fact that we are global, we are the universe, and that is why we are Adromeda – a whole galaxy that will cover all the needs of our partners and leave everyone satisfied with the services received.
Conclusion
Rebranding is not just an instant idea, it is a considered decision that we made to move forward. We are developing and growing, and accordingly, our branding is also changing. We are aware of the great value that Adromeda brings to the digital market, and we want to emphasize the scope of our development.
Adromeda has vast experience in digital marketing and is ready to share this valuable knowledge with our partners. To learn more about the digital world, check out our Adromeda blog.