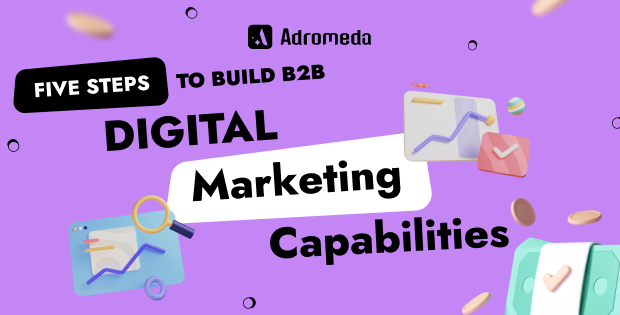 It is hard to find a company that has not been affected by digitization in recent years. B2B marketing business is no exception. Digitization has changed the way customers perceive information, interact with ads, and engage in communication. What does it mean for the B2B sector? In short, it means that B2B digital marketing strategies must also adapt to new realities, such as personalization or improving the consumer-like experience. McKinsey researched that B2B companies can improve their financial performance by investing in a target set of digital marketing capabilities. Let's discuss how we can do it!
Adromeda works with B2B clients and has already implemented all new trends into practice. This article will share our experience building digital marketing capabilities for B2B clients and guide you through this process!
B2B Marketing Transformation in 2022
Before we discuss each step of B2B digital marketing, let's take a look at how this industry has transformed in the last few years. Based on CES and Google's study, more than 57% of B2B customers decide to buy a product or service online. Brands that focus on B2B clients need to switch from passive support to active content generation. To understand this switch better, let's look at how the decision-making process for B2B works:
Awareness stage. This is how your possible clients can find your service or product.
Consideration stage. Here they understand what problems can be solved with your product.
Decision stage. The last point for making a decision.
Brands and their marketing teams also need to incorporate the latest industry trends into their strategies. What are the determinative changes for B2B in 2022?
Clients' behavior has become difficult to predict (even for B2B). It was primarily influenced by pandemics and evolving of new technologies in communication. But CMO priorities changed, and it's essential to consider this in marketing planning.
It's become easier to target your audience, but this has also seen the growth of competitors in the B2B sector.
Content has become more advanced. Based on Gartner's research, 30% of marketing budget is spent on content creation. This is mainly because clients have huge expectations from business. B2B marketers provide video, audio, and high-quality text content to communicate with their clients.
At the same time, digital marketing is moving to measurement automation – 80% of marketing organizations have B2B marketing automation platforms deployed. This means that they have more sophisticated and valuable marketing analysis.
Step-By-Step Guide To Building B2B Marketing Capabilities
As the market is highly affected by new trends and technologies, we will provide a short practical guide to creating B2B digital marketing capacities.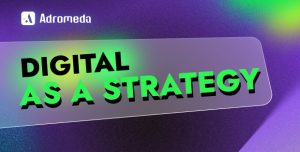 Step #1. Digital As a Strategy
Not every company considers digital as a top priority for marketing strategy. This could be a mistake. In 2022, the best approach is digital-first. But what does it mean? The B2B digital market strategy means getting a consensus of top management around vision, mission, and goal achievements. You can build your strategy on content, for example. Or focus on communities or personal contact. Whatever you choose, you need to understand how it will help your brand achieve a business goal.
Step #2. Use Integrated Marketing Communication for Consistent User Experience
In general, B2B buyers spend more if they have information from different channels than buyers who interact only with one medium. It is always better to integrate your messages into various platforms (online or offline). Some data proves that marketers need to invest in mobile. Almost 90% of B2B buyers interact with mobile platforms when they make their purchase decision. This is something you need to consider when planning your digital strategy.
Step #3. Learn What Your Buyers Really Need
This step is quite common for almost all marketing strategies, but there are some additional notes in the case of B2B. The best practice is focused on researching the most critical stage for your clients in the decision-making process and how you can personalize their experience. Almost all companies use two or more analytical tools to research audience preferences. Sometimes they needed to change the whole business process to make clients satisfied with communication with a brand.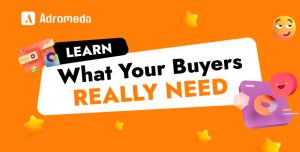 Step #4. Community Building Strategy
One more point is to invest in building a digital community for B2B brands. This has been an influential trend in recent years. Learn the most effective channels for communication in your sector, and try to establish a community that will connect people with the same interests and missions. For instance, the Discourse community for brands that work with the NFT market, shown by Gary Vee, is one of the most successful in the B2B sector. Another example is an interpreter community built around business literature discussions (Morning Brew contributes to one of such communities). Or look at Youtuber communities. B2B needs to learn how to construct such interactions and connections with potential clients.
Step #5. Create a Measurement Strategy
It is difficult to say whether or not your marketing strategy is successful if you don't have a measurement scale and KPI. Many statistics usually do not bring valuable insights to the digital marketing strategy. The number of impressions or comments under your post does not work as an efficient measure in many cases (especially in B2B). That is why, before you run the campaign, define the measurement system you will use.
Final Thought
B2B marketing tactics in 2022 have been influenced by the pandemic, but still prioritize personal involvement and communication with clients. We would say that defending targets, prioritizing communication channels, using technology for data research, and applying automation techniques are still valuable practices for creating new capabilities.
Another thing that can be important for your brand is implementing an integrated marketing communication approach. Do not focus only on mobile or social media channels, but make explicit your messages between each possible platform to get more involved with clients.
Adromeda works with B2B and B2C markets and can be your best supporter in building capabilities for your company. You can check our best practices or contact our specialists to discuss your campaign, business challenges, and possible marketing solutions. We are ready to help.