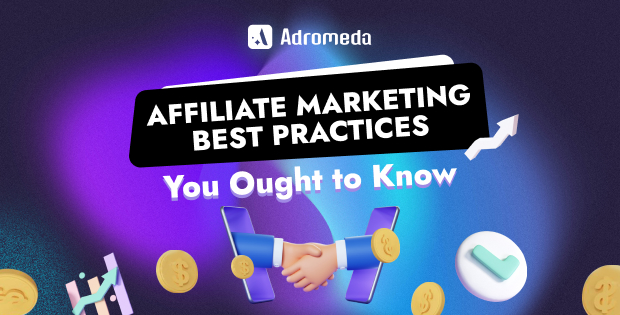 Affiliate marketing is one of the oldest practices to earn money online and increase awareness of your business. It's true that you can launch a valuable affiliate campaign without huge investment and get a great result in a short time. Based on Google Trends data, the term "affiliate marketing" has become twice as popular as it was five years ago.
But this industry has changed a lot in the last decade. Digital marketing practice in 2022 was influenced by AI, big data, IoT, and other advanced technologies, making the marketing techniques more effective and valuable for product and services promotion.
At Adromeda, we work with a variety of clients and know how to leverage all digital promotion techniques for product growth. We hope our expertise can be a lifesaver for any that are facing marketing challenges. This text will share the affiliate marketing best practices that will be actual in 2022.
Tip #1. Attention to Content Quality and Niche Auditory
The basic rule for a good digital marketing campaign is to know your audience and ensure that you sell a good product. The importance of content and audience research is central to the principles of such campaigns. In fact, this approach works with any type of marketing strategy, but here we will point to the importance of those practices for affiliate links.
How will you promote your business with affiliates? Where will people find your links?
The sources for links can be:
influencers
bloggers
other websites (small or big)
emails
This means that your customers will find exciting content first, interact with it, read an article or listen to influencers, and only after that they will click on a link. That is why it should be valuable content for a niche audience.
Some tips for improving your content strategy:
Use technology to research your targets. Knowing the age or gender of your potential auditory is not enough. You need to know what this person buys in the supermarket, where they spend their vacation, and what their dog's name is. This is only an example of the data you may need, as each campaign is unique.
Focus on niche influencers. If you want to sell running sneakers, there is no need to put your affiliate link into a gamer account. You need to find a blogger who can explain the advantages of your product to their audience. Even if the audience is 1K followers. Niche advertisements, in many cases, are more valuable.
Tell a success story. This is something that works as inspiration and influences consumer behavior. If the blogger tells their story of successfully using your product or service, it will bring more clicks to your links. People need inspiration. Think about ways to provide this to them.
Tip #2. Leverage Email Marketing and Use New Social Media Tools
If you think that email marketing is already dead, you are wrong! The growth of subscription models for distributing content has made marketers rethink the idea of emails. But there are some limitations to using this type of promotion:
You need unique content for emails. Don't send your customers bland weekly emails about anything and Look at the niche subscriptions. If you need to add your affiliate link to a product that will be useful for marketers, you need to research thematic subscriptions to ensure that your targets are reading it. Content is king, but the community is also important. Try to find the right, most valuable emails to ensure an excellent digital marketing campaign.
Use automated tools to measure your success. Not all emails will work the same. You need to know how many people open them, read them, click the links, or read emails after work. All this data can be provided by automated measurement instruments. And your goal is to use this data to improve your affiliate marketing
As we have already spoken about tools, let's now look at new possibilities for social media. Meta is working on improving online shops to allow people to buy something from recommendations even without leaving the platform. Instagram has a unique guide for affiliate marketers on placing the links into a product review. In some outfits reviews, you can click on a coat or shoes to find out the cost and purchase them. The same marketplace works on Facebook.
Using those special tools can be an excellent strategy for online marketing and influencing consumer behavior. You need to try them!
Tip #3. Try New Formats For Digital Marketing
All new formats have considerable interest from users, and marketers can use them to link their affiliate programs. What are we talking about?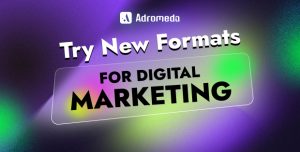 Try to add an affiliate link to the Youtube video description. As the data shows, it works. Of course, you need to post it under the relevant video on a thematic channel. Find a creator who is the best match for your audience, and create a particular program with them. Video is usually better promoted, and Youtube allows creators to grow organically.
Voice search is a new step for online marketing. Consider placing a link for voice search, as many of your customers already use this feature. Smart assistants have also become a part of the everyday routine, and they can  certainly be used for promoting affiliate links or promo codes.
Analyze consumer behavior for updating digital marketing programs. If your affiliate doesn't work, this doesn't mean that you need to use more links. Maybe you need to change your behavior? Ask your affiliate partners what can be improved. Use data analysis tools to get more insight and fix your campaign. Almost 94% of companies use more than one program for tracking affiliations. Implementing the right measurement technology is the key to good marketing.
Final Thoughts
The revenue from affiliate marketing will grow in the next few years, allowing marketers to be creative and active with new campaigns. Remember that each program needs to have a pre-launch phase. You need to ensure that your links work, your website is optimized, and that you understand your targets.
It is impossible to run affiliates and not understand  recent trends on Instagram. At the same time, affiliate online marketing campaigns are related to new technological changes. We encourage you to learn about the market and use advanced technology and professional support when launching programs.
The Adromeda team is experienced in launching various affiliate campaigns and can be your expert provider of this excellent marketing tool. If you need to discuss your case, contact our specialists.