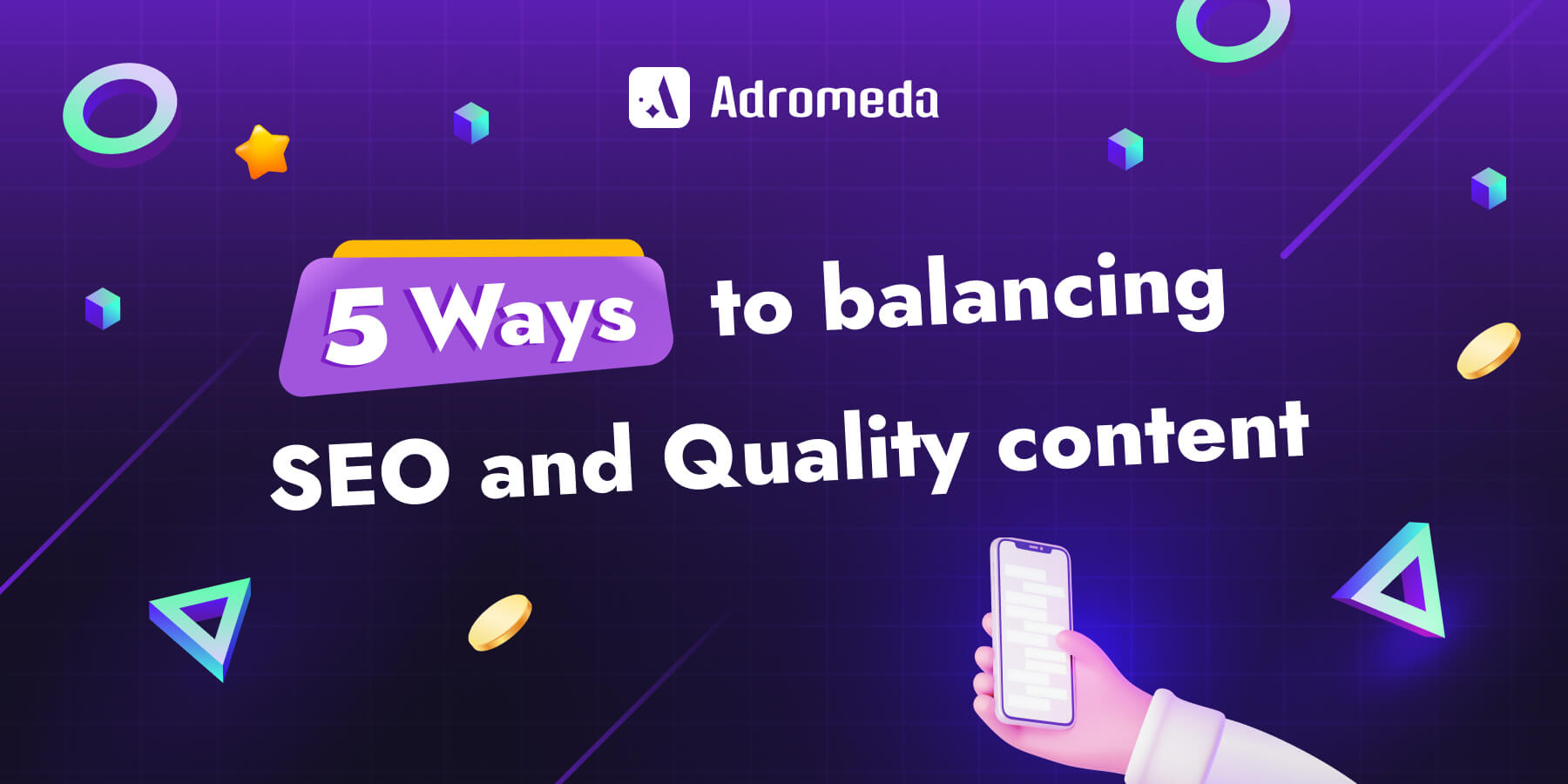 Finding a Perfect Balance Between SEO and Content: Top-5 Tips
When working on your website, you want it to reach as many target users as possible, attract more, and grow conversions. You'll have to constantly create relevant quality content to address the needs of your audience, and maintain an effective SEO strategy to make sure your site is loved by search engines just as much as it is by real users.
In this post we'll guide you through 5 major principles of building a powerful SEO and content strategy.
1. Create content for people and not search bots
The first thing to know about helpful website content is that it has to cater to the needs of target users. When they land on your page, they should feel like they're in the right place for what they've searched for. How do you ensure that?
Learn your audience. Carry out interviews with your existing leads and customers; research topically relevant blogs and forums, explore heatmaps to visualize site visitors' behavior, etc.
Don't overoptimize. If you overstuff your content with keywords or don't include them in the context naturally, they will do more harm than good.
Focus on achieving business goals with each piece of content. When crafting a content plan – which you should do before writing and promoting – consider the different stages of the sales funnel and goals you want to achieve. This will guide you to content that is more specific, correlates with your CTAs, and therefore converts better.
2. Continuously reevaluate your keyword list
What you should continuously do to create SEO quality content includes:
Keyword clustering. There are SEO platforms that allow you to cluster keywords automatically based on their SERP similarities: they might help a great deal, but make sure to review the clusters manually afterward. The clusters you get as a result might serve you as topic clusters for creating content.
Removing unnecessary keywords. Evaluate your semantics from the perspective of how each given keyword correlates with your business, as well as how popular and competitive it is. Focus on those keywords that have enough potential to bring you qualified traffic and conversions.
Expanding the list. A keyword list is never complete: you have to constantly track industry trends, search ranking fluctuations, and competitor sites to spot new keyword opportunities.
3. Experiment with content formats and page elements
There's no universal answer to what content you should create and how often. It depends on the niche, your particular goals, brand voice, and many other factors. SEO best practices for content involve a lot of experimenting. Try out different approaches, formats, and designs to learn what works best for your website. Here are a few tips:
A/B test landing pages and CTAs. There are a lot of A/B testing tools to choose from, and they will give you insights into what chunks of text and design choices engage visitors better. If you learn that engagement and conversion rates leave much to be desired, that's a sign to rethink your content completely.
Create custom visuals and incorporate videos. Visuals play a great role in grasping users' attention, so don't underestimate them when crafting a content plan.
Consider making interactive materials. Good old articles are still fine, but you might want to diversify your content with something more engaging: create infographics, incorporate surveys and quizzes, integrate reviews or user-generated content into your pages, and so on.
4. Adopt the best practices from your competitors
Competitor research is another vital component of effective SEO and content marketing strategy. By using SEO tools and manually exploring popular websites in your niche, you can:
Find out what types of content work best. Assess how well competitor websites rank for different queries and in different regions you're targeting and identify their best-performing pages. Explore those pages from the perspective of a user and think about how you can do even better.
Analyze what topics are still underrepresented. When diving into competitive research, you can find certain content gaps – potentially fruitful topics that aren't covered by major players or aren't covered well. Take these topic ideas and make the best of them.
Keep up with changes and updates. Monitor how your rivals change their top pages to see if they get updated, how often, and how exactly. This will give you ideas about current trends and the level of effort other websites put into optimization.
5. Leverage guest posting opportunities
Using SEO for content marketing has two crucial aspects: content and links. To checkmark both goals, make sure to facilitate your content with link building.
Besides the basics of link building – get many authoritative sources to link out to your content – build and maintain a strong guest posting strategy. Discover what sources you might write for, learn their guidelines, and pitch articles to interest them. Build relationships and keep searching for new connections.
Combine SEO and content strategies in a meaningful way
Content is crucial to SEO, and vice versa. Only with a holistic approach that considers all promotion channels and website performance factors can you achieve the results you're looking for.
Adromeda has expertise in implementing cutting-edge digital marketing approaches to help your content reach its true potential. We can help define and carry out your strategy while also providing high-quality traffic to maximize the output. All these things will help you keep site visitors engaged, get more conversions, and steadily grow your business.